THE KRUSTY SHOW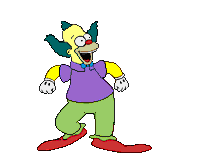 ---
Hey-Hey kids! Hoo-hoo-hoo-hahahaha!
I'm proud to present you my Krusty Show! This is a SUB-Main Page where you can choose from other different pages that you won't find in the Index!
Nope! You can ALL find it here! With your favourite clown,
Krusty.
---
Choose here to go to the Krusty Pages :
Krusty's Opinions to Life
Marge's List of Itchy and Scratchy Violence Acts
Who were Itchy & Scratchy Modeled After?